Pest Control Newcastle
Child & Pet-Friendly Pest Control

All Work Guaranteed

7 Days a week Service

Servicing Newcastle Pest Control areas

Lake Macquarie Pest Control areas

Central Coast Pest Control areas

Forster, Taree, & Surrounds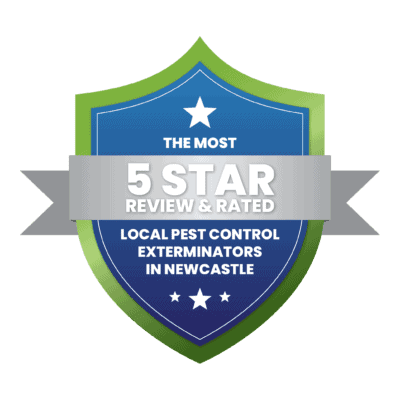 "The Most 5 Star Recommended and reviewed Newcastle Pest Control Company"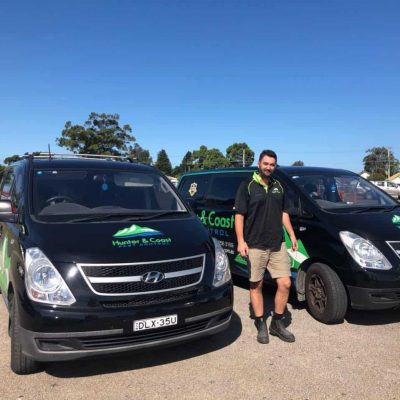 Hunter & Coast Pest Control are a 5-star rated business that has been serving customers for over 15 years. We operate 7 days a week and don't have extra charges for weekend work. We use the safest chemical proven effective to treat a given type of pest and we have a minimal disruption policy so clients can get on with their lives. Our business has been built around solid customer relations.
We understand that the pest control process has to be as effortless and streamlined as it can be. If you're dealing with an infestation of roaches or rodents, then you need to get it dealt with asap.
Because we have multiple specialists working for us, we can get to you within 48 hours. In the pest control industry, it's of prime importance to deal with an infestation quickly. Our services also come with a 6 month warranty for your peace of mind.
We offer fast and free quotes and all chemical agents used are child & pet friendly. Fully licenced and insured, Hunter & Coast Pest Control is focused on providing a superb client experience and we have the testimonials to back up this claim.
Call now on (02) 4956 3169 for a reliable and affordable pest control provider.
How much does pest control cost in Newcastle?
The standard cost for pest control in Newcastle would be around $250 – $400 for a general service. This is a whole house service that will take care of a variety of different pests, with the exclusion of termites, German cockroaches, rodents, and select other pests that need specialised treatments. You will need to contact the provider to see what is covered under the general treatment. Cost will be affected by the extent and nature of the infestation, the quality of the provider, how many rooms your house has, and other criteria.
Types of pests we treat
Since we began, the number and species of pests we've learned to treat has expanded significantly. Our knowledge of how best to deal with them has also grown. As an experienced provider, we treat all major varieties of pest including:
How long does it take to get rid of pests?
This will depend on the type of pest in question. Rodents and German cockroaches might need two treatments to ensure they are fully dealt with. Most pests can be completely eliminated within 4 weeks or so. Once a chemical agent is applied, the colony/nest will start to die off. The majority will be dead within 3 weeks. But if even one survives, the entire colony will grow back.
Frequently Asked Questions about Pest Control in Newcastle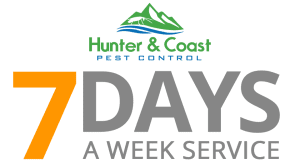 Newcastle Pest Problems and Pest Treatments
Newcastle, NSW has a humid subtropical climate which means as a result, rainfall is at its heaviest around July or early winter.
The councils that we service in the Newcastle region are the city of Lake Macquarie, Cessnock, Maitland and Port Stephens council. The location and climate of Newcastle have created ideal conditions for a range of household pests and pest problems with the humble cockroach being the most common. Older suburbs such as Carrington, Wallsend and Cardiff are above average in our experience for pest activity with poorly sealed old weatherboard homes providing the perfect cracks and crevices for harbourage areas for cockroaches, spiders, etc.
The large town of Newcastle is the second biggest in New South Wales. Located at the mouth of the Hunter River, Newcastle rose to prominence during the coal industry and its harbour is now the largest coal exporter in the world. In its early history, Newcastle was a tough place to live, as only the most hardened convicts were sent there to work the mines. It is now a bustling and friendly town featuring a huge variety of activities for visitors to do. The town centre is also home to impressive historic buildings, including Christ Church Cathedral, Fort Scratchley and the City Hall.
Newcastle East started as a site of heavy industry and railways but has since transformed into a residential area which contains historic terraced housing. The suburb boasts of two beaches in the form of Nobbys Beach and Newcastle Beach. The impressive Fort Scratchley, which still bears the marks of a Japanese Navy attack from World War II, is a great place to visit for historical facts and scenic views.
Newcastle West is the shopping hub of Newcastle town, and also boasts a large park which offers plenty of fun outdoor activities. It is also the home of Newcastle High School and the Hunter TAFE. The local McDonalds on King Street is a popular hangout.
Common Pests in Newcastle
Other Pest Control Services
Our Newcastle pest company can treat all house and garden pests including:
Newcastle Pest Control company offering:
Total pest exterminators, pest removal plan, and pest prevention
Environmentally friendly pest treatments
Guaranteed pest prevention from all your common pest problems
Safe Pest Treatments
Superior pest removal service
Service Guarantee
Being a family-owned and operated pest company Hunter and Coast Pest Control guarantees its pest treatments, ensures we are prompt with contacting our clients, all our pest technicians are qualified, polite and on time!
We offer a cheap pest control treatment services without compromising on the quality. We also offer competitive pricing, prides itself on excellent customer service – highlighted by our numerous online positive reviews and recommendations.
We pride ourselves on being the best pest removal company in Newcastle.
Interior Pest Treatment: We offer a safe pest spray and other pest treatments for the inside of your home. We treat problem pest areas where pests hide such as your home's cracks and crevices. We will treat the kitchen, bathrooms, bedrooms, hallways, garage and all doors to the exterior of your home.
Exterior Pest Treatment: Most pest problems begin outside, our pest technician will assess your main risk areas and target points of entry for pest into your home, and then lay down a protective barrier, usually an exterior pest spray, around your home and garden.
Testimonials
Had James come and complete a pest spray today, he was very efficient, friendly, polite and most importantly professional, he was knowledgable on the product and was happy to answer any questions or concerns I had, very happy with the level of service received today, if the product works half as well as the level of service I'll be an extremely satisfied customer.
maddison ellis
2023-10-16
I have been going to these guys for a few years now for pest control. I haven't been let down once. They are reliable, down to earth and happy to help. I won't go anywhere else.
Owner of The Big Treehouse Preschool New Lambton Today Hunter and Coast Pest control did a late 6pm pest control at our preschool premises. What can I say!!!!! First we had the honour of meeting a young gentleman Max very well spoken and professional 👏 went far and beyond to help. Today we have a little visit from a bird in our indoor playground. We couldn't get it out from the roof area all day both staff and children were upset and concerned. Max was happy to help in anyway he contacted another staff member that had clocked off for the day. Another lovely gentleman Ben returned with equipment to remove the bird. Massive thankyou to both Max and Ben not only did you go far and beyond to help but you have made all the kids at The Big Treehouse happy that the bird wasn't harmed. I would highly recommend this company and the staff. Look forward to seeing you for our pest control in 6 months Kind regards Alison Banek
James from Hunter & Coast Pest & Handyman Services was excellent. Easy to book. Great communication, arrived on time, friendly, clean and efficient! Even gave me a recommendation for a treatment to stay on top of the ants.
Have used hunter and coast pest control for years and couldn't be happier. They were on time, cost effective and helped get rid of all my pests. Customer service is second to none and I recommend them to everyone! Thanks team!!!
Jasmine Griesberg
2023-09-28
Professional and effective! Can't ask for much more thanks gusy!
Nice lady who did the job and a good company to deal with