Rodent Control In Newcastle
Fully Licensed & Insured

100% Guaranteed Results

Child & Pet-Friendly Pest Control

Mobile EFTPOS Payment Option

Licensed and Insured Pest Controllers

Experts in Rodent Control Services

Over 18 Years of Combined Experience

Residential and Business Pest Control Treatments
Experts in Rodent Control In Newcastle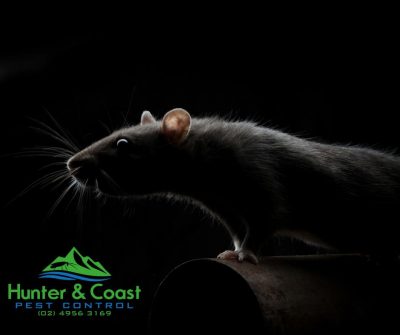 Current SPECIALS : Complete Rat and Mouse Rodent Treatment from just $150 with 6 MONTH WARRANTY
Hunter and Coast Pest Control offers all aspects of rodent control and rodent treatment including;
Rodent control
Rodent treatment
Pet safe rodent control
Child safe rodent control
Kill rodents
Rodent removal company
Chemical rodent removal treatments
Home rodent control and home rodent treatment
Commercial rodent control, treatment and spraying
Rodent infestation
Rodent exterminator and rodent extermination
Rodents – Rats and Mice
Rats and mice love Newcastle's warm climate and can rapidly breed and multiple creating mice problems in your home. Rats and mice can cause property damage but nesting in your home and gnawing on walls/doors and part of your house in search of food. Mice dropping and rat droppings can also spread disease, creating an unhygienic environment. We offer a full rat and mouse pest treatment service for households and commercial businesses such as restaurants and cafes. House mouse, Roof rat, mice in the walls and under the floor and rat problems. How do you eradicate rats and remove mice from your home? We get asked this question every day! Hunter and Coast offer a full rodent removal and eradication service using baiting. Our baits are pet friendly and not harmful to children. How to prevent a rodent infestation?
Ensure food is not available for rats and mice. Store food in secure containers.
Seal all unintentional holes, gaps and cracks larger than 5 mm.
Install weather strips at the bottom of doors into the house.
Remove any debris in and around your home to reduce the risk of rodent nests.
Trim branches, plants and bushes that hang near the building.
Ensure that gutters are directing water away from the building.
Commercial bait stations and rodent poisons – rat poison and mouse poison to remove
How much does it cost to hire someone to get rid of rodents for me?
Rodent treatments start at $150 for a small area, but range around $250 to $350 for the average home. Several factors affect the cost of rodent control such as the severity of the infestation as well as the size of your property. Call us today on (02) 4956 3169 so we can provide you a fast free quote for rodent control. Our service is safe for pets and children and involves rat proofing your property to avoid future infestations.
What are the methods of controlling rodents?
There are two main methods of controlling rodents. One is to use traps and the other is to use rat poison or rodenticide. There are different kinds of traps that you can use for rodent control such as glue traps, snap traps, live animal traps, and electronic traps. Rodenticides are effective in killing rats, but note that they could also kill any animal that eats the poisoned food.
How long does it take to get rid of rats?
Traps are a great way to rid your property of rats, but it may take days or weeks for rats to fall into your trap. Poison works much faster at around 3 to 5 days but they have a downside of being deadly to pets and children as well. Furthermore, it's likely that a rat will die in a hard to reach location after being poisoned. This can create an odor and fly problem that will persist until you are able to find the dead body. For effective, safe, and fast rodent control, it's best to hire a professional exterminator.
Frequently Asked Questions About Rodent Control
Rodent Control Services, Rodent Treatments and Rodent Removal Service Area
We also offer:
Want to experience the best wasp control services in Newcastle? Call us today on (02) 4956 3169 or send us FREE quotes. We have excellent pest control services in Newcastle, as well as in Maitland, Lake Macquarie & Cessnock that will surely save your day.
Testimonials
Had James come and complete a pest spray today, he was very efficient, friendly, polite and most importantly professional, he was knowledgable on the product and was happy to answer any questions or concerns I had, very happy with the level of service received today, if the product works half as well as the level of service I'll be an extremely satisfied customer.
maddison ellis
2023-10-16
I have been going to these guys for a few years now for pest control. I haven't been let down once. They are reliable, down to earth and happy to help. I won't go anywhere else.
Owner of The Big Treehouse Preschool New Lambton Today Hunter and Coast Pest control did a late 6pm pest control at our preschool premises. What can I say!!!!! First we had the honour of meeting a young gentleman Max very well spoken and professional 👏 went far and beyond to help. Today we have a little visit from a bird in our indoor playground. We couldn't get it out from the roof area all day both staff and children were upset and concerned. Max was happy to help in anyway he contacted another staff member that had clocked off for the day. Another lovely gentleman Ben returned with equipment to remove the bird. Massive thankyou to both Max and Ben not only did you go far and beyond to help but you have made all the kids at The Big Treehouse happy that the bird wasn't harmed. I would highly recommend this company and the staff. Look forward to seeing you for our pest control in 6 months Kind regards Alison Banek
James from Hunter & Coast Pest & Handyman Services was excellent. Easy to book. Great communication, arrived on time, friendly, clean and efficient! Even gave me a recommendation for a treatment to stay on top of the ants.
Have used hunter and coast pest control for years and couldn't be happier. They were on time, cost effective and helped get rid of all my pests. Customer service is second to none and I recommend them to everyone! Thanks team!!!
Jasmine Griesberg
2023-09-28
Professional and effective! Can't ask for much more thanks gusy!
Nice lady who did the job and a good company to deal with