German Cockroach Control Newcastle
Fully Licensed & Insured

100% Guaranteed Result

Child & Pet-Friendly Pest Control

Mobile EFTPOS Payment Option

Licensed and Insured Pest Controllers

Over 18 Years of Combined Experience

Experts in German Cockroach Control Services

Residential and Business Pest Control Treatments
Experts in German Cockroach Control Services, Treatments and Exterminators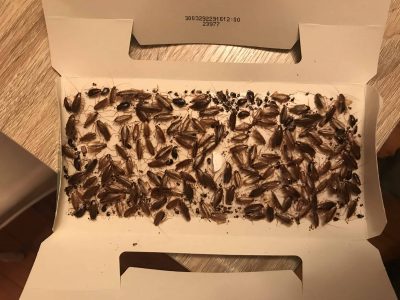 NOTE: NO PREPERATION, CLEANING or EMPTYING OF CUPBOARDS REQUIRED
Hunter and Coast Pest Control offers all aspects of German cockroach infestation eradication and control including;
German Cockroach control
German Cockroach treatment, gel bait, spray, Insect Growth Regulator treatment and sticky board treatment
German Cockroach Breeding Cycle Breaker treatment (two weeks after first treatment)
German Cockroach removal
Kill german cockroaches
German cockroach spray
Home german cockroach control and home german cockroach treatment
Commercial German cockroach control, treatment and spraying
Restaurant and Kitchen German Cockroach treatments
German cockroach infestation experts
German Cockroach exterminator Newcastle and surrounds and Cockroach extermination
Looking for the best Pest Control Newcastle has to offer? Click here to request for a quote.
Professional pest control around the home and business is paramount to maintaining a hygienic and disease-free environment for people. German Cockroaches carry diseases such as Gastroenteritis or "Gastro" as well as other food sicknesses. These germs and diseases can spread to your family via your everyday interactions with surfaces that the German cockroach pests have made contact with. German cockroaches come in a few different sizes from the tiny little ones in the above photo to full size golden brown ones with two horizontal stripes on their head. German cockroach infestations almost always begin in the kitchen with common harbourage and breeding areas being behind the fridge, dishwasher, under the kettle base etc. these appliances all provide heat and moisture for them.
Hunter and Coast Pest Control's German cockroach treatments are a two treatment process – each treatment is 2 weeks apart with the second treatment breaking their breeding cycle.
Cockroaches, silverfish, spiders, ants, mice, rats, fleas, mites, ticks, bed bugs, termites, nuisance birds, possums and snakes are the most common of pests we are contacted about in the Newcastle, Port Stephens, Maitland, Forester, Taree and surrounds.
Pest German Cockroaches
Cockroaches are nocturnal and are common in all areas of Australia. They live inside your home, in cracks and crevices, wall spaces, under ovens, roof spaces, sub-floors, fridges, microwaves and other large appliances. Cockroaches are usually nocturnal feeders which means that they are active at night after you have gone to sleep SO seeing cockroaches in the daytime around your home is a sure sign of a cockroach infestation. In fact, for every one cockroach you see around your home there are potentially hundreds more living in your home or commercial business.
How Can You Get Rid Of German Cockroaches?
If you live in the Newcastle region, Maitland, Port Stephens or Lake Macquarie Regions then you most likely know about German Cockroaches and the infestations that take place throughout these regions. Unfortunately, due to a fast-breeding cycle and an ability to survive on almost any food source, these insects spread very fast, but with help from a professional pest control company, you CAN get rid of them. Hunter and Coast Pest Control has never failed at eradicating a German Cockroach colony from a home or business.
What Are German Cockroaches?
These are a small cockroach species of around 1.6 cm in length. They are either tan or almost black. Even if this insect has wings, they don't fly at all. However, they might glide at times depending on the situation and especially if they are under attack from a predator. A thing to note is that they are very similar to the Asian cockroach, although the German cockroach can't fly while the former one can.
Due to that, you can find them crawling around various humid areas in your home. From your basement to kitchen counters and floors, these are some of their preferred locations. These cockroaches carry harmful bacteria and they are known to trigger various types of asthma. As a result, a German Cockroach infestation can impact your health. You should never take this lightly. While there are some methods you can get rid of them on your own, not all of them are efficient. Many times these German Cockroaches will come back to your home in larger numbers.
Signs of infestation
You identify cockroach activity during the day.
You can see various cockroach droppings.
You sense a musty and oily smell.
You find lots of brown cockroaches in your bathroom or kitchen.
Dead roaches on the floor.
Preventing German Cockroaches
Empty the pet food containers
Remove any humidity from your home
Clean your kitchen and bathroom
Use a dehumidifier to remove any moisture
Never leave the trash out, just take it to the bin as fast as possible
Always try to keep your food sealed
Killing German Cockroaches
Exterminating the German Cockroaches can be quite the challenge if you want to do it on your own. Creating a DIY roach trap can be a good idea, but it takes a lot of time and it might attract other insects as well. So overall it's not a good solution. Chemical sprays such as Baygon, Pea Beau, Mortein, Black Flag and Atlas will all work as a contact kill solution i.e you see a german cockroach and spray it with one of these sprays and it will die however it does nothing to kill a colony and is counter-intuitive as it tends to "flush" the German cockroaches which can spread them throughout your house into areas they hadn't been to yet – further expanding the colony!
The best way to get rid of German Cockroaches is to focus on using professional Pest Control services. Hunter and Coast Pest Control is the best German Cockroach exterminator in the Newcastle Region and we have NEVER FAILED at exterminating any type of cockroach colony.
We cover Port Stephens, Maitland Area, Lake Macquarie and the Cessnock area as well. If you want reliable, professional exterminator services focused on quality, value and the best possible results, all you have to do is to contact us for a free instant quote. We work 7 days a week and are here for you and we will help you deal with German Cockroaches as fast as possible!
German Cockroach Pest Control
German Cockroach Pest Control Newcastle is usually easier with the larger breeds of cockroaches such as the American, oriental and Australian bush roach, however, Hunter and Coast pest control has mastered the art of eradicating a German cockroach colony and has a 100% success rate!
German Cockroach
Description and Habitat German cockroaches are the smaller breeds of roach with adults being slightly smaller than a matchstick in length. They are golden brown with two black stripes running down their body. When in nymph (baby) phase they can appear like a small black beetle. German cockroaches are also a winged cockroach but rarely fly. Germans are the hardiest of the cockroach family, the German cockroach is mainly an indoor roach and it has developed an ability to survive cold weather thanks to human inventions with warm motors and electronics in general – Air conditioners, Foxtel boxes, PlayStations, fridges, washing machines etc. are all an easy home for germans and a great place for them to keep their eggs warm. Distribution German cockroaches are globally spread as their ability to be stowaways with stored goods has given them the advantage of international migration aboard shipping containers! Most of our Hunter and Coast Pest Control customers have accidentally introduced German cockroaches via the purchase of second-hand appliances such as fridges and washing machines from Gumtree and garage sales or even brought in via a new roommate's items. It is almost a certainty that if moving home after an end of lease or new purchase of a home that if you had german cockroaches at your last place, you will be bringing them with you to the next one! We have found in our experience that certain suburbs are hotspots for Germans eg. Cooks hill, Rutherford, Beresfield, Windale, Redhead, Bolton point to name a few!
Cockroach Breeding cycles
German cockroaches are prolific breeders with females carrying an "ootheca" or egg case with an average of 32 eggs per case and an average of 5 egg cases in her 150 to 200 days on planet earth.
These egg cases are carried by the female for some weeks before being set free to further increase the population. Diet German Cockroaches will pretty much eat anything a human will eat plus a whole range of things that we don't eat! Toothpaste residue on toothbrushes, glue on packaging and pet food bowl residue are all menu items that add to the buffet that humans inadvertently supply them German Cockroach Control German cockroaches can affect most commercial premises that have food preparation or general storage of goods. Stored goods attract German cockroaches because they can survive simply on the glues used on cardboard boxes as well as water from moist and humid areas. Germans can also become a home occupiers nightmare and the most hated unwanted tenant. If given the opportunity, German Cockroaches can become a permanent and ever-expanding fixture. There are different traditional methods for eradicating and controlling German Cockroach populations but all require:
Patience: A single treatment very rarely can eradicate a colony due to their fast-breeding cycle. Hunter and Coast Pest Control average two treatments per home or business for German cockroaches.
Persistence: Cockroaches breed rapidly with most breeds remaining pregnant for life and studies confirm they develop faster when their population is under stress, so simply spraying them only flushes them and causes panic and therefore further breeding, this is nature's way of preserving the species and after 300 million years of survival these guys KNOW how to preserve their species!
Knowledge: Your pest controller must have a broad depth of knowledge of how German cockroaches and how they move and live throughout your home as well as which problem areas exist eg. Places such as under the kettle base, inside the fridge seals and behind fridges are almost always hot spots for German cockroaches.
German Cockroach Control Treatments
Cockroach Baiting products
Our range of gel bait applications have been 100% successful for eradicating German cockroach colonies when used in combination with other products such as sticky traps, flushing agents and growth regulators.
Cockroach Spraying
All species of cockroach except the German cockroach are sprayed for during our standard, Pet-Friendly General Pest Spray. Our technicians use a professional motorised backpack sprayer to apply a non-water soluble, no odour multi-insecticide which works both to kill and repel a range of insects including cockroaches and spiders. Our technician creates a barrier both inside and outside your home which prevents cockroaches from wanting to enter your property from the outside as well as evicting or killing your existing cockroach tenants.
Pheremone Sticky Board Traps
Pheremone sticky boards are a helpful tool for our German Cockroach treatments, they attract females with eggs and prevent the eggs from growing up and increasing the colony size. A female German cockroach carries an average of 32 eggs on her egg sack or "ootheca" so if half of those eggs were female you can see how the colony can expand in numbers so quickly! Cockroach Newcastle is the home to a variety of common cockroaches, including – Australian cockroaches, American cockroaches and German cockroaches. Roaches are known to cause damage to your home and spread disease creating health risks such as asthma. Cockroach dropping and cockroach infections are a nightmare pest problem. We offer a full cockroach eradication service including cockroach spray treatments and guaranteed cockroach removal. Our professional cockroach exterminators will ensure that your house is sprayed thoroughly including known cockroach nesting and breeding areas such as bathrooms, kitchens, walls and cracks and crevices. Say goodbye to your roach problem!
Cockroach Newcastle is the home to a variety of common cockroaches, including – Australian cockroaches, American cockroaches and German cockroaches. Roaches are known to cause damage to your home and spread disease creating health risks such as asthma. Cockroach dropping and cockroach infections are a nightmare pest problem. We offer a full cockroach eradication service including cockroach spray treatments and guaranteed cockroach removal. Our professional cockroach exterminators will ensure that your house is sprayed thoroughly including known cockroach nesting and breeding areas such as bathrooms, kitchens, walls and cracks and crevices. Say goodbye to your roach problem!
Hunter and Coast German Cockroach Pest Control
Pricing & Service Guarantee
Being a family-owned and operated pest company Hunter and Coast Pest Control guarantees its pest treatments, ensures we are prompt with contacting our clients, all our pest technicians are qualified, polite and on time! We offer a cheap pest control treatment service without compromising on the quality. We also offer competitive pricing, prides itself on excellent customer service – highlighted by our numerous online positive reviews and recommendation, We pride ourselves on being the best pest removal company in Newcastle.
Interior Pest Treatment
We offer a safe pest spray and other pest treatments for the inside of your home. We treat problem pest areas where pests hide such as your home's cracks and crevices. We will treat the kitchen, cupboards and draws, wardrobes, bathrooms, bedrooms, hallways, garage and all doors to the exterior of your home.
Exterior Pest Treatment
Most pest problems begin outside, our pest technician will assess your main risk areas and target points of entry for pest into your home, and then lay down a protective barrier, usually an exterior pest spray, around your home and garden
German Cockroach Control Services, German Cockroach Treatments and German Cockroach Service Area
Newcastle german cockroach control
Port Stephens german cockroach control
Maitland german cockroach control
Cessnock german cockroach control
Lake Macquarie german cockroach control
Hunter german cockroach control
Central Coast german cockroach control
We also offer:
Want to experience the best wasp control services in Newcastle? Call us today on (02) 4956 3169 or send us FREE quotes. We have excellent pest control services in Newcastle, as well as in Maitland, Lake Macquarie & Cessnock that will surely save your day.
Testimonials
Had James come and complete a pest spray today, he was very efficient, friendly, polite and most importantly professional, he was knowledgable on the product and was happy to answer any questions or concerns I had, very happy with the level of service received today, if the product works half as well as the level of service I'll be an extremely satisfied customer.
maddison ellis
2023-10-16
I have been going to these guys for a few years now for pest control. I haven't been let down once. They are reliable, down to earth and happy to help. I won't go anywhere else.
Owner of The Big Treehouse Preschool New Lambton Today Hunter and Coast Pest control did a late 6pm pest control at our preschool premises. What can I say!!!!! First we had the honour of meeting a young gentleman Max very well spoken and professional 👏 went far and beyond to help. Today we have a little visit from a bird in our indoor playground. We couldn't get it out from the roof area all day both staff and children were upset and concerned. Max was happy to help in anyway he contacted another staff member that had clocked off for the day. Another lovely gentleman Ben returned with equipment to remove the bird. Massive thankyou to both Max and Ben not only did you go far and beyond to help but you have made all the kids at The Big Treehouse happy that the bird wasn't harmed. I would highly recommend this company and the staff. Look forward to seeing you for our pest control in 6 months Kind regards Alison Banek
James from Hunter & Coast Pest & Handyman Services was excellent. Easy to book. Great communication, arrived on time, friendly, clean and efficient! Even gave me a recommendation for a treatment to stay on top of the ants.
Have used hunter and coast pest control for years and couldn't be happier. They were on time, cost effective and helped get rid of all my pests. Customer service is second to none and I recommend them to everyone! Thanks team!!!
Jasmine Griesberg
2023-09-28
Professional and effective! Can't ask for much more thanks gusy!
Nice lady who did the job and a good company to deal with